If you are a runner like me, there's a good chance you've heard of Spartan Race. And if you're not a runner, well then there's still a good chance you've heard of it. Or at least this genre of racing - obstacle racing.

Why have you heard of Spartan Race? These amazing obstacle races have been staged in front of tens of thousands of people in far, far away places such as Slovakia and also awesome places here in the U.S. such as Citi Field and Fenway Park. These obstacle challenges push you past your limits and change your outlook on life at the finish.



On top of the races, three hundred thousand people follow workouts posted on spartanrace.com and on their various social media outlets on a daily basis. There is also a free e-book on their site that has been downloaded more than half a million times.

The founder of Spartan Race, Joe DeSena, has written a book to help others realize how these Spartan Race obstacles can relate to those obstacles we all face in real life. No, this isn't an exercise or fitness book. It isn't a training guide for Spartan Race. Instead it is a manual for the Spartan way of life.

This Spartan way of life includes the following:

Finding the will to succeed. In the first half of a race you run with your legs; the second half you run with your mind. Turn your pain into an outboard motor to drive you forward.
Tossing your cookies. The Cookie Test can teach you how to overcome the need for immediate gratification and help you prosper in the long term.
Getting Spartan Fit. Survival of the Fittest means training outside the gym for strength, endurance and flexibility for your entire body.
Moving mountains. Whether metaphorical mountains or the ones which Spartans race, what you think of as your limitations can actually be a mere starting point for transformation.

I was lucky enough to read a synopsis of the book and I'm excited for it to be released. I think that reading the book will have me looking at life's obstacles in a different way, believing I can tackle them no matter what. And who know's maybe I'll be running a Spartan Race soon too!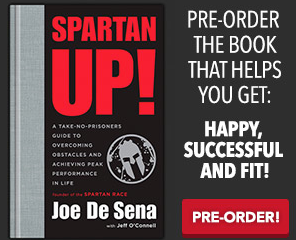 You can pre-order the book now, which will be available on May 13th.

And also, since this is all about Spartan Race, what a better way to celebrate this awesome new book than a giveaway! One lucky person will have the opportunity to win a free Spartan Race entry! (And if you don't win, if you buy the book you get 15% off a 2014 Spartan Race). Enter below! a Rafflecopter giveaway